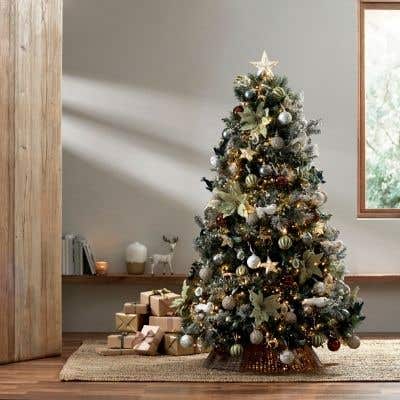 Make this Christmas magical and learn how to recreate a Bed Bath N' Table Christmas tree in your own home. The sparkling feature of the home during the festive season, make your Christmas tree this year extra special with all the tips and tricks you need. We caught up with our Christmas Styling Expert to give us the exact method used to create our beautiful Christmas trees you see in store and online.
1. Choose your style  
The first thing you need to do before setting up your Christmas tree is pick your palette. You can select traditional hues such a cherry reds and blush pinks or opt for an Australian-inspired style with shades of green and deep bronze highlights. For inspiration, check out our Christmas Lookbooks.
For your hanging decorations, choose 5-8 different styles and use multiples of these to fill your tree. Your garlands, sprays and poinsettias should be in different shapes, sizes and textures in complementing shades to help create a cohesive look.
TREE TIP: When choosing your decorations pick both neutral and vibrant hues to balance your colours. 
2. Set up your tree 
It's time to get out your tree! Start by fanning out the branches to help create a fuller look. You may need to move some branches up or down to fill any empty gaps. If you will use a tree skirt, pop this at the base of your tree at this step.
TREE TIP: An easy way to hide the base of your tree is with a tree skirt or ring.
3. Lights, garlands, action!  
Bring your tree to life with glistening lights and sparkling garlands. Start by plugging in your lights, this will help you see the placement before adding your decorations, and wrap them evenly around your tree. Next, place a beautiful garland in a spiral shape around your tree. The space between is where you will hang up your decorations and fill your Christmas tree.
TREE TIP: A garland can act as a decoration itself and give a luxe feel. Choose a garland that complements your Christmas style.
4. Place your poinsettias and sprays  
One of the highlights of a beautiful Christmas tree is the poinsettias and sprays. These magical additions are larger in size than your baubles and really bring your Christmas style together. Decide where the front of your tree will be and place your poinsettias and sprays in a zig zag pattern to give them the space they need to make a festive statement.
5. Baubles and tree topper  
The last step is to fill your Christmas tree with the final festive additions; baubles and a tree topper. Follow the same zig zag pattern as your poinsettias but in the opposite direction. Hang your coloured baubles first followed by your neutral selections and any feature baubles you would like to highlight. Fill in any gaps with your shaped tree decorations such as angels, reindeers or bird clips. 
Complete your tree with a beautiful tree topper and your Christmas tree is ready for the upcoming festivities.
Christmas stock is selling out fast. Discover tree decorations to suit your style online and in store.