Bed Linen & Bedding
Creating your ultimate bedroom starts with quality bed linen and bedding. Start by investing in bedding staples like quilts and pillows, then bring your bedroom to life with beautiful designer bed linen. At Bed Bath N' Table we have designed and developed our quality collections in Australia since 1960. Today, we continue to offer our exclusive Morgan & Finch label, together with the highest quality bed linen brands including Cotton House, Sanderson and Harlequin. All our bed linen collections offer style, comfort and great value. From luxurious quilts to unique designer quilt covers you'll find everything you need to create your ideal bedroom retreat. Create, Decorate, Design, Innovate.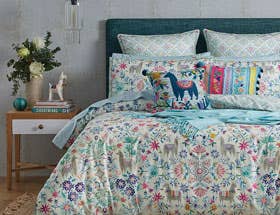 Quilt Covers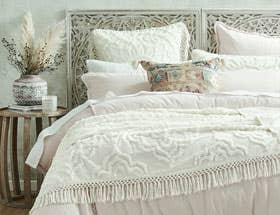 Bedspreads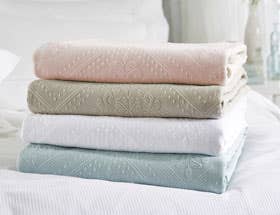 Blankets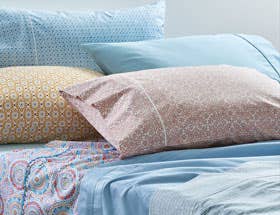 Sheets & Pillowcases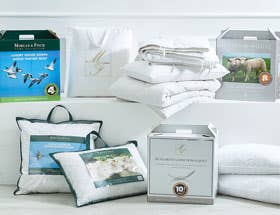 Quilts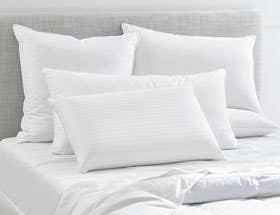 Pillows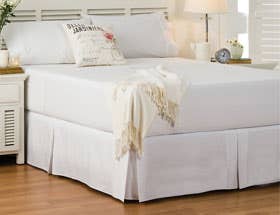 Valances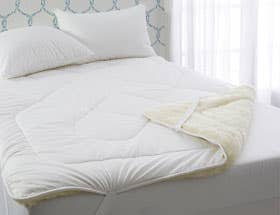 Protectors & Underblankets
Sleepwear
Did you know?
---
Washing
All bed linen should be washed before use to remove any extra finishing and dyes. This has the added benefit of softening the cotton.
Ironing
Cotton will always naturally form some 'wrinkles', however its breathability, softness and durability outweigh any minimal ironing that may be required. It's also good to note that the higher the thread count, the higher the density of the cloth and the less likelihood of wrinkles.
Care
To minimise any ironing needed or eliminate it all together, we recommend the following care instructions:
Wash bed linen on cold or warm cycle
Reduce spin (a full spin will add creases)
Line dry bed linen as soon as possible (the longer bed linen is left in the basket or washing machine, the more creases will form)
Do not tumble dry bed linen (this only adds creases and dries the fabric to excess, causing shrinkage in the fibres of the bed linen)
Collect bed linen while slightly damp and iron immediately (or collect as soon as bed linen is dry and immediately fold or place them on the bed) to ensure minimal creasing